Igår satt jag och kollade på den helmysiga filmen
The Last Unicorn
och blev helt plötsligt väldigt nyfiken på det här med böcker med en aningen sagohäst-tema. Det finns ju i mängder, och om man letar lite så hittar man flera stycken anpassade till YA istället för småbarn. Så varför inte byta genre lite och satsa på sagohästar?
The Last Unicorn
av Peter S. Beagle
The unicorn discovers that she is the last unicorn in the world, and sets off to find the others. She meets Schmendrick the Magician--whose magic seldom works, and never as he intended--when he rescues her from Mommy Fortuna's Midnight Carnival, where only some of the mythical beasts displayed are illusions. They are joined by Molly Grue, who believes in legends despite her experiences with a Robin Hood wannabe and his unmerry men. Ahead wait King Haggard and his Red Bull, who banished unicorns from the land.
Boken som filmen är baserad på. I USA är den visst är riktig fantasy klassiker, men här i Sverige är den inte speciellt välkänd, såvitt jag vet finns den inte ens översatt. Den finns också som graphic novel. Om du går in på bokens
Amazon
sida kan de läsa de första sidorna i den grafiska, så otroligt fin! Jag vill bara köpa hem den direkt, trots att den är så dyr.
Birth of the Firebringer
av Meredith Ann Pierce
Jan, the prince of the unicorns, is high-spirited, reckless-and the despair of his mighty father, Korr. Reluctantly, Korr allows Jan to accompany the other initiate warriors on a pilgrimage. Soon Jan's curiosity leads him, along with his friend Dagg, and their mentor, the female warrior Tek, into the greatest dangers-deadly gryphons, sly pans, wyverns, pards, and renegade unicorns. Yet time after time they are rescued, leading Jan to wonder: Am I the heir to a special destiny?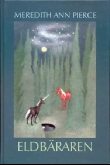 Den första boken finns dessutom också på svenska under titeln Eldbäraren. Tyvärr fick förlaget för sig att det var en jättebra idé att bara översätta första boken i trilogin så de andra två får man läsa på engelska. På grund av hela röran med översättningarna så har jag bara läst den första, och den är riktigt bra! Mycket rekommenderad till dig som gillar fantasy (men omslaget måste vara bland det värsta jag har sett).
Rampant
av Diana Peterfreund
Forget everything you ever knew about unicorns...
Real unicorns are venomous, man-eating monsters with huge fangs and razor-sharp horns. Fortunately, they've been extinct for a hundred and fifty years.
Or not.
Astrid had always scoffed at her eccentric mother's stories about killer unicorns. But when one of the monsters attacks her boyfriend—thereby ruining any chance of him taking her to the prom—Astrid finds herself headed to Rome to train as a unicorn hunter at the ancient cloisters the hunters have used for centuries.
However, at the cloisters all is not what it seems. Outside, the unicorns wait to attack. And within, Astrid faces other, unexpected threats: from the crumbling, bone-covered walls that vibrate with a terrible power to the hidden agendas of her fellow hunters to—perhaps most dangerously of all—her growing attraction to a handsome art student ... an attraction that could jeopardize everything.
How can you not love the sound of this? Serien heter
Killer Unicorns
! Den handlar om människoätande enhörningar som bara unga jungfrur kan kan döda! En underbar lite tvis på hela enhörningsmyten tycker jag. Än så länge finns det en uppföljare,
Ascendant
och en prequel novell,
Errant,
som utspelar sig på 1800-talet.
The Flame of Olympus
av Kate O'Hearn
When Pegasus crashes onto a Manhattan roof during a terrible storm, Emily's life changes forever. Suddenly allied with a winged horse she'd always thought was mythical, Emily is thrust into the center of a fierce battle between the Roman gods and a terrifying race of multiarmed stone warriors called the Nirads. Emily must team up with a thief named Paelen, the goddess Diana, and a boy named Joel in order to return Pegasus to Olympus and rescue the gods from a certain death.
Along the way, Emily and her companions will fight monsters, run from a government agency that is prepared to dissect Pegasus, and even fly above the Manhattan skyline—all as part of a quest to save Olympus before time runs out.
Så här i tider när mytologi, speciellt grekisk, är så populär så borde väl detta passa de flesta. Kanske faller den lite mer inom MG än YA, men det borde väl fungera ändå. Massor av
uppföljare
finns det också.
The Scorpio Races
av Maggie Stiefvater
Every year, the Scorpio Races are run on the beaches of Skarmouth. Every year, the sea washes blood from the sand. To race the savage water horses can mean death, but the danger is irresistible.
When Puck enters the races to save her family, she is drawn to the mysterious Sean, the only person on the island capable of taming the beasts.
At age nineteen, Sean Kendrick is the returning champion. He is a young man of few words, and if he has any fears, he keeps them buried deep, where no one else can see them.
Puck Connolly is different. She never meant to ride in the Scorpio Races. But fate hasn't given her much of a chance. So she enters the competition — the first girl ever to do so. She is in no way prepared for what is going to happen.
Detta kan ju inte vara något annat än bäckahästar, vad finns det mer för hästar som lever i vattnet och äter människor?
För er som inte gillar att läsa på engelska kan jag dessutom passa på att berätta att
Scorpio Races
kommer ut på svenska nu i vinter under titeln
Dödsritten
. Yay!
Daughter of the Centaurs
av Kate Klimo
Malora knows what she was born to be: a horse wrangler and a hunter, just like her father. But when her people are massacred by batlike monsters called Leatherwings, Malora will need her horse skills just to survive. The last living human, Malora roams the wilderness at the head of a band of magnificent horses, relying only on her own wits, strength, and courage. When she is captured by a group of centaurs and taken to their city, Malora must decide whether the comforts of her new home and family are worth the parts of herself she must sacrifice to keep them.
Bortsett från Harry Potter så vet jag inga böcker som handlar om kentaurer. Tydligen så ska
Daughter of the Centaurs
inte alls vara en fantasy utan en dystopi som utspelar sig långt in i vår framtid. Lite nyfiken är jag allt på hur författaren lyckas peta in kentaurer som något annat än fantasyvarelser.
Detta var alltså ett nördinlägg av en häst/fantasyälskare. Tipsa gärna om ni vet några fler böcker i en liknande genre.